Yes, I've been way to busy with work, fannish activities and such that I have gotten way behind on things like this blog and the SFTV Schedule.  I'm hoping to catch up on some of that in the near future, but it may still be a few weeks.   I have had some issues recently with spammers breaking into SFTV.org.  I'm still trying to determine if they made it in via wordpress or something else on the site or via my webhost (and if so, it may be time to finally move to a new webhost....)
Yes, the resulting chapbook from the Wheaton/Scalzi Unicorn Pegasus Kitten fanfiction contest has now been released.  I'll post more about it later, but go to the official site to download and donate now!
For additional information, visit John Scalzi's Whatever or Wil Wheaton dot Net (In Exile) .
We're almost upon the 2010 Comic Con International in San Diego and there's tons of stuff to do if you are going.  Finding out about all of it isn't the easiest thing, so here's a bunch of links to interesting things to see and do at the convention.   (More details may be added as I find appropriate links).
I'll be based out of the AZ SF Cons fan table in the Mezzanine area (MZ04).  How much time I'll actually be at the booth is unknown. 
Besides the official web site, there's a good number of unofficial web sites with news and information about what's happening at and around the convention.  The best one is the SDCCBlog, which has a good list of things happening outside of the convention in addition to lots of news about what's going on at the con.   Another site that should be having a lot of the news about comics related events is The Beat.
There's lots and lots of programming going on, plus a good number of things happening outside of the convention.  Here's some of them to look out for:
W00tStock 2.4 - Wil Wheaton, Paul & Storm, and Adam Savage put on an evening of geektastic fun.  It is happening Thursday night at the 4th & B venue.  With all the people in town for Comic Con, who knows who might show up.
CBLDF - Welcome Party, panels, charity auction - The Comic Book Legal Defense Fund always has a welcome party on Thursday night at the Westgate hotel.  It is free to CBLDF members (I always renew my membership at the convention) or a donation of $10 or so.  They are having some good panels with comic artists during the convention and also have an Art auction on Saturday night.  They are also auctioning off lunch with DC's Geoff Johns.  They will also have a good number of signed books, prints and other stuff (maybe some more Neil Gaiman t-shirts?) at their booth (#1920)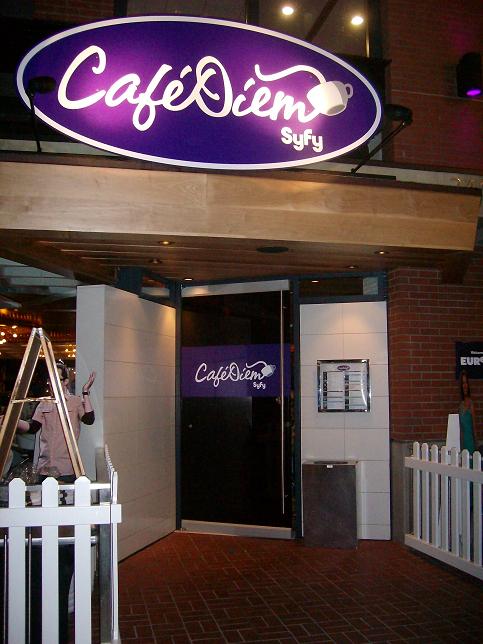 Syfy not on the show floor again - As they did last year, Syfy will not be exhibiting on the show floor again, but will be doing street team giveaways as well as re-opening Cafe Diem at the Hard Rock Hotel (check out the Cafe Diem menu online so you won't be too shocked at the prices!).   Here's a press release of all the Syfy happenings, and Syfy has their own section of their website with information about all their panels.
Warner Bros will be providing every single attendee with one of the giant bags this year, thus limiting the amount of times people swarm their booth to get one.  However, TV Guide will have a special issue devoted to Warner Bros. shows handed out at the WB booth as well as a bunch of signings that will likely turn into a zoo (especially the Big Bang Theory one).  They will also be repeating their hotel room key promotion this year.
BBC America isn't bringing anyone from Doctor Who this year, but will have the cast and creators for Being Human on hand as well as Look Around You.  There is also a couple of Doctor Who exclusive toys this year with an Eleventh Doctor figure with a Dalek Scientist figure as well as a Fifth Doctor and The Master set.
Shout Factory will have a special Max Headroom photo booth to celebrate the release of the TV series on August 10th (my birthday!).
There will be lots and lots of science fiction and fantasy authors on hand at the convention, doing panels and autograph sessions.  Mysterious Galaxy has a list of pretty much all of them that will be on hand in one form or another.  Mysterious Galaxy's booth will have books to buy if you don't have copies already and will also have books at the signing sessions in the autograph area.  They are also having some giveaways and freebies from Penguin Books (Ace/Roc, etc).  Mysterious Galaxy will also have a few signings at their booth (#1119).
Many other publishers will be on hand with booths and authors. Here's what I've been able to track down so far:
Tor Books - Tor books  will have several giveaways at their booth associated with authors on hand such as Brandon Sanderson, David Weber, and others.  Booth 2301.  Next door in booth 2302, their manga imprint, Seven Seas, will have a bunch of stuff going on as well.
Random House (Del Rey, etc.) will have their usual multiple booths and should have a few signings.  The Del Rey Internet Newsletter has a list of Del Rey authors on hand and there will supposedly be updates on Suvudu about signings and other events.
And, since it is COMIC Con, there will actually be a bunch of comics companies on hand.  Here's links to roundups of what's going on with different publishers:
Archia Press - Several panels as well as creators signing at their booth (#2635).   Also, Mouse Guard creator, David Peterson, will have a table in Artists Alley (GG-09)
Avatar Press - With Max Brooks, Brian Pulido, and others (but no Warren Ellis).
Boom Studios - Is having a Drink Up on Thursday night at the Bayfront Hilton with Mark Waid and others. And at their booth (#2743), they'll have Disney artists, Mark Waid, Farscape writers/artists, and more.
Dark Horse Comics - Dave McKean, Joss Whedon, Amano, Umbrella Academy and more!
DC Comics -  DC will have their giant booth with lots of writers and artists doing signings for DC, Wildstorm, Vertigo, and DC Kids.  They never announce those schedules in advance, though, so you have to check the booth each day.  They do have a list of DC, Wildstorm,  and Vertigo panels online, though.  
IDW Comics - Special exclusives for True Blood and Doctor Who plus lots of comic creators on hand at their booth (#2643).
Marvel Comics - Lots of Marvel Panels and they also plan to LiveBlog a lot of them.
Titan Books - Titan is launching a new US web site on Monday, July 19th, and will have the first issue of the new Torchwood comic available at their booth (#5537 ) as well as some other signed exclusives.
Probably one of the bigger movie promotions is for the Scott Pilgrim movie, for which the Bayfront Hilton is getting a promotional wrap and there will be an interactive Scott Pilgrim area outside the Hilton for fans to check out.  Last year, NBC did a carnival across the street to promote Heroes, which was fun to visit.
For those of you not making it there or those of you wanting to see what you missed while you were there, many various outlets will be reporting on the convention.  Comics news sites such as Newsarama, Comic Book Resources, Bleeding Cool, and Comics Alliance will all be reporting from the convention.  Ain't It Cool will likely be having their coverage of the movie panels and some of the TV panels.  The Futon Critic will likely be live blogging a lot of the TV panels (as long as Brian gets into the panel room).  TV Guide and Entertainment Weekly will likely have some reports as well.
Some additions to the original post:
Rare books - Forgot to mention one of my favorite rare book dealers at the show, who always has something interesting.  William Wu Books in booth #5627 on the back side of the hall.
Actors appearing not on the Comic Con schedule:
There's always actors making appearances that aren't part of the official autographing in the sails pavilions.  Once company that usually has a number of them is Lightspeed Fine Art, who will have people like Brent Spiner, James Marsters, LeVar Burton, Marina Sirtis, Michael Dorn, Stan Lee, Eddie McClintock, Saul Rubinek, and Kevin Sorbo at their booth (#3745).
Patricia Tallman of Babylon 5 (among other things)  will be at the Roddenberry Productions booth (#2543) at Friday at 2 pm.  They do have some other things going on at Comic Con, but no mention that I can find of any other actors appearing at their booth.  More from Patricia Tallman "I'll be at the Roddenberry Booth on Friday at 2pm-4pm and maybe later, near Marvel. Booth # 2543. Aisle 2600. I'll be attending their mixer Friday night. Sat 10-noon and Sunday at 1pm at Fewdio Productions booth (#4116) aisle 4100, across from Nickelodean, security and Starbucks! There is a joke in there somewhere. They will be showing the horror short we shot. Tell your friends!Love to see you.xxoo Pat"
Star Trek Stuff at ComicCon - TrekMovie.com has a nice roundup of Star Trek stuff at the exhibitor booths include free Star Trek watches from CBS!
G4TV Coverage -  Of course, G4 TV will be at the convention, with several shows of live coverage from the convention and lots more online at their Comic Con page.
This past weekend was the 2010 Phoenix ComiCon, which concluded a pretty crazy year and a half for me.
At the start of 2009 was the 2009
Phoenix ComiCon
at the end of January, where I helped set up the first ever Wil Wheaton Rock Band event there. I was vice-chair of
FiestaCon
, the 62nd Westercon, which happened over July 4th Weekend and helped rebound
Westercon
after a low turnout one in Las Vegas in 2008. I chaired the first
North American Discworld Convention
over Labor Day weekend in 2009, for which our main guest (and creator of Discworld),
Terry Pratchett
, declared it was the best Discworld Convention ever! A couple of weeks ago I chaired
LepreCon 36
, which even though we had a dissapointing amount of attendees, those that did come had a great time. This past weekend was the
2010 Phoenix ComicCon
, which moved to the Phoenix convention center after having outgrown the Mesa Convention Center, and it was definitely bigger than any prior ones. I oversaw the SciFi programming tracked, helped put together Wil Wheaton Rock Band again this year (
which was an awesome event
- yes, that is me in my Devo flower pot hat), and helped set up the
Super Happy Fun Time
panel with Wil Wheaton and John Scalzi which announced a
special charity project
they are organizing. For the first time in quite a while, I do not have a major event in the near future I'm in charge of! However, I am looking forward to
LepreCon 37
the first weekend of May in 2011 for which we will be having the first ever
Shadow Unit
mini-con as part of the convention. And, for Phoenix ComiCon 2011, I hope we can make more awesome things happen. I also attended and was on programming for
Gallifrey One
in 2009 and 2010,
LosCon 36
,
Anticipation
(WorldCon 2009), and also attended
ComiCon International
and the first two
Tucson Festival of Books
.
Once I get caught back up on real life, I hope to get caught up with my online life as well.
Initial work on setting up a new SFTV blog on my own site….
No, this is not about Doctor Who, but The Who. Seeing them perfrom live (or what's left of them) at the "The Big Game" brought back some memories of The Who, pretty much my favorite band of all time.
I first really became aware of The Who during the summer of 1969 when Pinball Wizard was getting a lot of airplay on AM radio. I remember sitting in the back of my parents car as we drove across Kansas to visit my grandparents in western Kansas and hearing Pinball Wizard a number of times on the radio going out there and back. Simon and Garfunkel's The Boxer was played just as much, but for a 12 year old kid, a song about a "pinball wizard" was a lot more cool.
So, of course, I picked up the 45 of Pinball Wizard, and I quickly became a fan of The Who, getting Tommy, Meaty Big, and Bouncy, and their other LPs. I then found out about all their songs NOT on albums and started tracking down those to get the B sides. Over the years I acquired multiple copies of many of the albums, various greatest hits and rarities collections, and of course, CDs. One time I won a complete set of Who LPs on KY102 in Kansas City when I answered the most questions correctly on a Who trivia contest, missing only one question. However, the station never actually CONTACTED me about it! I found out when a friend of my sister mentioned to her that they'd heard my name mentioned as a winner of a contest on the radio station. Once I finally verified with the station that I had won, I drove over to their offices from Lawrence, KS, to pick up my prize package. It was a complete set of Who LPs (up through The Who by Numbers which had just came out) as well as a nice pair of headphones.
Later that year was my biggest regret related to The Who. I was in my freshman year at the University of Kansas, and The Who were playing Kemper Arena in Kansas City on Dec 1st. I got tickets for it, then later realized it was the same night as my Chemistry 101 final. Now, the class was set up so that for your final grade, you got to throw out the worst test of the semester and the rest would be averaged for your final grade. I had a solid B in the class, but for whatever reason I felt that I had a good chance to do well enough on the final to bring my grade up to an A. So I sold my ticket to someone else, took the test, then did bad enough on it that it was the test that got thrown out. I was upset at the time about it, and several years later, I really had wished I'd gone to the show when Keith Moon passed away.
I did finally get to see the band a couple of times in Arizona in the 1980's, (1980 and 1982) and those were memorable shows. I'm glad I did see them back in those days at least.
One other bit of Who memories:
When I first went to Phoenix for a job interview in late 1979 and stayed the weekend, I ended up catching a double feature at the Valley Art theatre of The Kids are Alright and Rust Never Sleeps.
I still find it somewhat amusing to see that their songs are now mostly known for being used as the theme songs for the CSI shows (which is probably why CBS had them do the halftime show). But it is also fun to play their songs on Rock Band! (Incidentally, they made available a recording of their Super Bowl set on Rock Band right after the game).
Oh, and congrats to Neil Gaiman, who will finally be writing a Doctor Who episode! I figured it was only a matter of time, but he has now officially said he is doing one.
Neil Gaiman and Amanda Palmer announced that they are going to tie the not. See the announcement on Neil's blog.
In honor of the occasion, here's Amanda singing "I Google You", written by Neil Gaiman, at the San Diego Women's Club benefit for the CBLDF during ComicCon last July that I got to see.
Yes, trying to get back into the habit of posting to this blog hasn't been easy. So, here's a short post to get things rolling...
Doctor Who - The End of Time.
Right now, BBC America's having obtained first run rights to Doctor Who is really paying off. Their broadcast of The Waters of Mars two weeks ago set ratings records for the channel and I imagine the two part finale will do even better. We're in the middle of 46 hours straight of Doctor Who leading up to the end of David Tennant's run with The End of Time Part 2 on Saturday night, one day after it was aired on the BBC in the UK. Hopefully, this type of lead time will continue when the new series with Matt Smith debuts in the spring. (Click the link to go to You Tube - the imbedded video is a bit funky on here....)
I've gotten way behind on my regular postings at SFTV.org and other websites due in part to being the chair of the North American Discworld Convention, held last weekend in Tempe, AZ. Terry Pratchett told the crowd that "The North American Discworld Convention has been the best Discworld convention ever!" That is a very big complement from the man who created the whole thing! Kudos to all my staff and committee who made it a big success.
Of course, now I have to go back to work in the real world...
Yes, I've not gone underground, just been busy with house hunting, work, convention stuff and way too many things to have much time to actually blog.
I am now on Facebook, but tend to ignore any requests that come my way. I use it primarily to keep an eye on friends, associates, and family.
Thus, a few short bits to tide you over:
SFTV Schedules are almost updated. A mostly updated Season to Date list is up at www.sftv.org.
I bought a Subway sandwhich today to help save Chuck (and it really should not end!)
I saw the Star Trek movie last week and really enjoyed it and plan to see it again.
The last weekend of Star Trek: The Exhibition in Phoenix is this weekend. Make sure to catch it if you haven't yet.
This coming Saturday, May 2nd, is Free Comic Book Day. I've put up a list of comic shops in Arizona (Phoenix and Tucson) over at the AZSF Blog. As far as I've been able to tell, there are no comic shops in Flagstaff (unless there's a new one).
Lee